Happy Monday, everyone!
Today has definitely been a fun yet nose-to-the-grindstone type o' day. I'm working on dresses for a wedding party right now, and while it has been a lot of work, it has been *so much fun* getting to design each gown....I love my job!
Here's a little peek at what the designs look like:
I started out with the original pattern I usually use....
Square-ish neckline, gathers in front, very classic, very pretty.
Then I made some dramatic changes! All three of the bridesmaid dresses are going to have similar elements to the classic dress I usually make; however, they are each going to have different necklines, bustles, and a couple other details...
Starting with drafting out
new patterns,
I designed three gowns that
will look almost exactly like theses...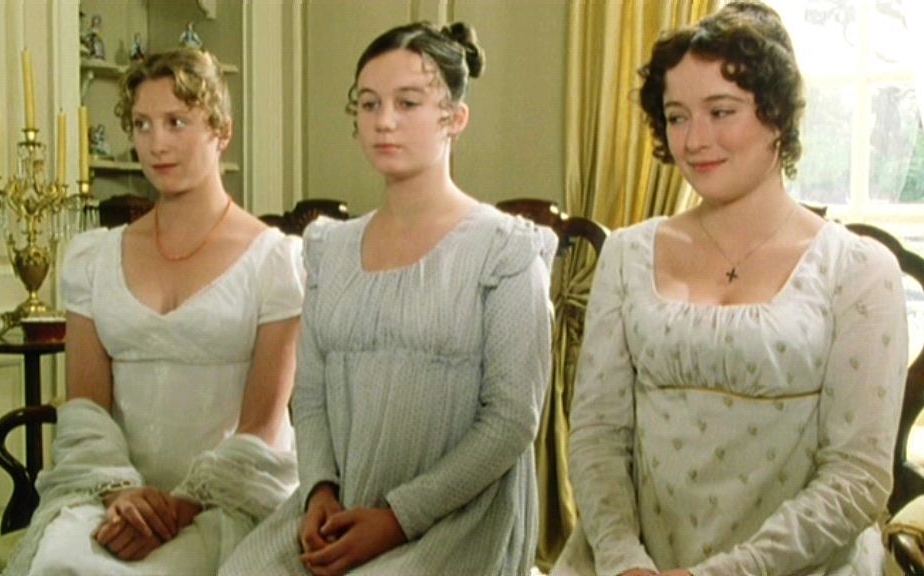 ...from the BBC adaption of Pride and Prejudice.
(speaking of P&P, which is your favorite, the 1995 BBC-Colin Firth

/

Jennifer Ehle adaption or the 2005 Focus Features-

Matthew Macfadyen/Keira Knightley version? Personally, I am 2005 all the way, which has caused a ruckus at times - haha ;-)
Today, I have been sewing away on the oval-neckline gown.
Changes made on that one:
It is not a drawstring dress (like the one shown), but instead will have a waistband
It will have three quarter length sleeves (instead of how the sleeves are in the picture, which are short with a detachable sleeve),
And will have a slightly lower-but still modest neckline.
Much like the green dress...
...worn by Lizzie (Keira Knightely) in the 2005 adaption of P&P. By the way, I *love* that shade of green, especially with the black sash...so pretty, so simple.
And there you have it! I will share updates along the way, of both the bridesmaid dresses that I'm already working on and the matching flower girl dress I will be starting soon!
I hope you have a fabulous night!
_-*-_ linking up to _-*-_